Our Latest Episode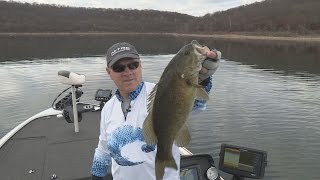 Photo of the Day
Crappie fishing is on fire in the southern U.S. Both males and females have followed the warming water into the shallows and are gathered along shorelines in 1 - 3 feet of water. They can be caught on slip-bobber rigs around logs, brush, weeds, and aquatic vegetation. Pictured is a 2.3 lb monster caught at Grenada Lake in Mississippi. This is prime time for crappie!
Latest News
Barry McRay of Roanoke, TX just won a Fox Sports Outoors jersey. All he had to do was FOLLOW us on Twitter. Go FOLLOW us now to be elegible for the next gear giveaway on Twitter!

OFFICER DOWN
Springfield, Missouri police officer Aaron Pearson was seriously injured by a suspected burglar and is currently recovering. Many of his friends including our partner Lew's Fishing have joined to create a raffle to help his family offset some of his medical expenses. The grand prize is a brand new 2015 fully rigged boat, plus more great prizes. WATCH OUR VIDEO HERE. Buy raffle tickets and get more info at OfficerPeason.com.
Fox Sports Outdoors anchor Barry Stokes give some of his best tips on getting kids hooked on the fun of fishing.
Barry's Blog
There's an old adage that goes something like this: "A bad day fishing is better than a good day at work." I don't really know if ...Read More