Our Latest Episode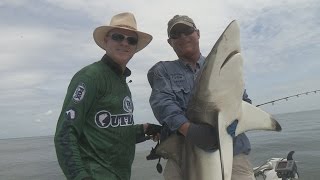 Photo of the Day
White bass are beginning to congregate in lakes and reservoirs at the mouths of major rivers and creeks for their annual spawning run. These two giants were caught this week in a major river channel in the upper end of a reservoir. It won't be long now!
Latest News
Fox Sports Outdoors anchor Barry Stokes give some of his best tips on getting kids hooked on the fun of fishing.
WE ARE CURRENTLY IN OFF-SEASON RETURNING MID-MARCH 2015. SIGN UP FOR OUR FREE NEWSLETTER FOR LATEST OFF-SEASON NEWS.
CLICK HERE
Barry's Blog
A few warm days over the past week in the South is signaling the beginning of one of the best times of the year for fishing. At the first sign ...Read More